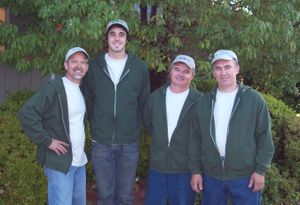 Todd, Samir, Petr & Ivan
Sunburst Landscape Services
We create oases for busy lives!
Todd Wagner, Owner
P.O. Box 903  Fair Oaks, Ca  95628
Sacramento County
916-962-2278
twsunburst@aol.com
Residential & Commercial  
California Landscape Contractors Association & Fair Oaks Chamber of Commerce
CA License #758474
Since 1992  
S
unburst is a customer-service oriented landscaping service. We have been in business for 25 years, offering exceptional gardening services in the Fair Oaks, Gold River, Carmichael, Folsom and greater Sacramento area. We are devoted to helping others create and maintain beautiful outdoor environments because we truly believe that coming home to a place that is lush, green and well-ordered can reduce stress, build attractive neighborhoods and enhance social gatherings. Our services include the following...
 Landscape Maintenance
• Planting Flowers/Shrubs/Trees
• Laying Sod/Seeding Lawns
• Irrigation Systems
• Lawn Aeration
• Water features/Ponds
• Install and Maintain Drainage Systems
• Outdoor Lighting
• ORGANIC Fertilizer when requested
Drought Tolerant
I look forward to sharing ideas that will transform your property into a showpiece. Contact me today to book your consultation. I guarantee our work will be to your satisfaction.